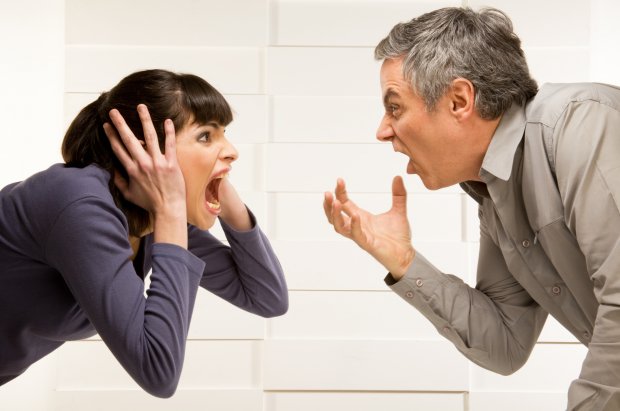 "Don't let her make you just as emotional."
---
 When we get in arguments as men, we tend to get to the same level of anger as the woman in the argument and it boils over. You are being pulled into this person emotionally, and cannot let that get to you. And the reason is because as men once we get emotional, it becomes how can I hurt this person the most. What can I say to get this person to shut up. Why, well we're in charge of physicality. And that is not to say that as a woman you are this lesser in society (we know that given you birth our children). But what I will say is that men tend to carry ourselves in a more physical way with our emotions, whereas women are more internal. And what do I mean by men not letting the woman's anger get to you; this is what I mean.
In any argument, one person is always trying to gain the upper hand over the other person. And with that comes insults that are thrown for what appear to come from deep down inside. And with the person trying to gain the upper hand, you will always have someone say something that they regret. And usually, it is us as men. Why is it us as men? The reason why us as men get to that point because once we reach the boiling point we try to hit you with anything to tear you apart. It's to crush anything and everything you thought you had inside to give. But it most often result in us stopping before hand. Because that realness in how we feel could cut you deep. Which might ultimately make you out to be worse than the woman you're arguing with.
Now, men typically say things we feel out of rage when feeling rejected in some sort. So we stoop to a much lower level than the woman to try to make her feel less because we can't have her. And it has to do with checking our egos. But the other reason is that we hate to lose arguments so we say the worse thing we feel to win. Because in life to men, this battle is a zero sum; there has to be a winner and there has to be a loser. And in the moment of fighting, I have to win and you have to lose. So we will try to bring you down emotionally, to bring ourselves up in the fight. So in the end, we try to win at all cost, or least end the conversation when we want to end it. And once we feel we have lost control, we go to extreme measures to end the conversation. But what we really end of doing is saying something that shows us in a much worse light than the woman.
---
https://faheemjackson.squarespace.com/ (PERSONAL WEBSITE)
https://www.facebook.com/fjacks063 (FAN PAGE)
https://www.amazon.com/s/ref=sr_nr_n_0?fst=as%3Aoff&rh=n%3A283155%2Ck%3Afaheem+jackson&keywords=faheem+jackson&ie=UTF8&qid=1492966094&rnid=2941120011   
@theefaheemjackson Instagram
@2320howe Twitter