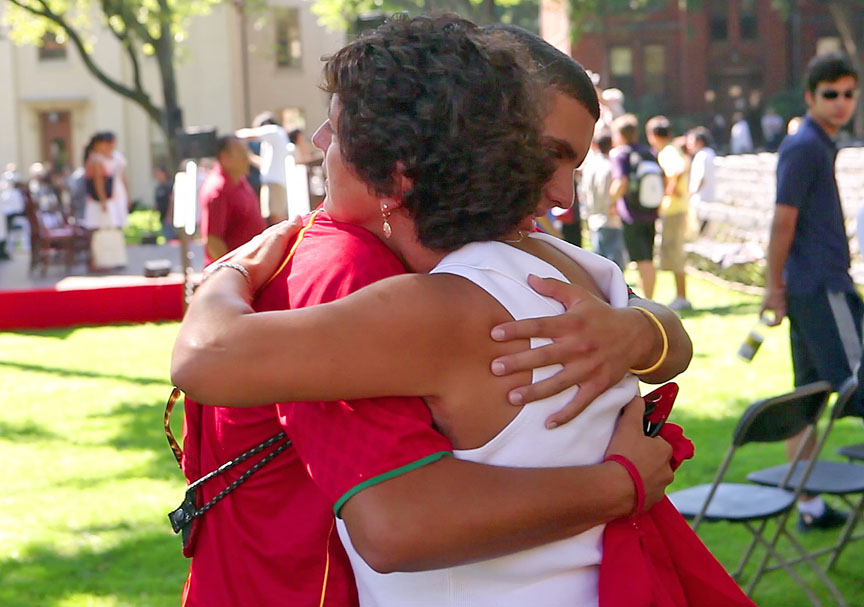 "They're not going to be young forever."
---
When growing up, parents are very protective of their young. Understandably so because it's your job to protect them. But at some point in time that parent has to let go and let their child have their own lives. And this is generally the hardest job that any parent has to do is let go. Eventually, that kid grows up, and goes into the world to start their own lives. They must have their own identity and embark on their own career endeavors. But why, why must parents really need to let go of their child/ children? Just saying they need their own lives is not good enough.
I heard Denzel Washington make a statement regarding having a hard time letting go of his son. His son was heading east to college from California. And he told an interesting story of why he had to let go. He was flying a private jet when the pilots had to drop some fuel from the plane to increase the altitude in flight. Denzel stated that is how he had to look at parenting like flying in that plane. If he didn't release his son the he couldn't have flown to the heights he wanted to fly. And that is a strong reason why parents have to let go. But so many parents have the hardest time letting go. Their children have been their lives for so long it becomes tough to let go.
But the moral of the story from Denzel is that how will your kids be prepared to take on the world if you keep them so close. They need to step out into the world. Try things, fail, and then work to come back and succeed. You can't protect them forever otherwise they won't grow. You'll do nothing more but create an environment of codependency. And trust and believe, no one else is going to allow them to live off of them without stepping into the world. You stunt their development and actually make them fearful of walking into the world themselves. You have held on so long, they are terrified that maybe you held on because they can't succeed without you.
Another reason why parents find it so hard to push children into the world is also because this may be the last child to leave the house. When having children, the first you get emotional and last you get emotional. Because the first is that oldest to come into the world. And the last kid is confirmation that no more children are in the house. So now you have to get used to making decisions based around you and your best interest. No more coming home and making sure everything is right on the home front. Get used to coming home and not hearing any noise, just silence.
And in the end, that is the toughest adjustment a parent must make in life. Getting used to adjusting to life with no one there unless you're married. You now have to learn how to go back to life when there weren't kids around. And that for a lot of people is hard to get used to. So parents find themselves contacting their children in college asking what are they doing. It may seem overbearing to the kid, but to the parent it is completely normal. Yet, the kid has to go off and carve out their own identity, their own plans, their own futures.
---
https://www.facebook.com/groups/1777548702458281/
https://faheemjackson.squarespace.com/
https://www.amazon.com/s/ref=sr_nr_n_0?fst=as%3Aoff&rh=n%3A283155%2Ck%3Afaheem+jackson&keywords=faheem+jackson&ie=UTF8&qid=1492966094&rnid=2941120011 
@fjackson12345 Instagram
@2320howe Twitter