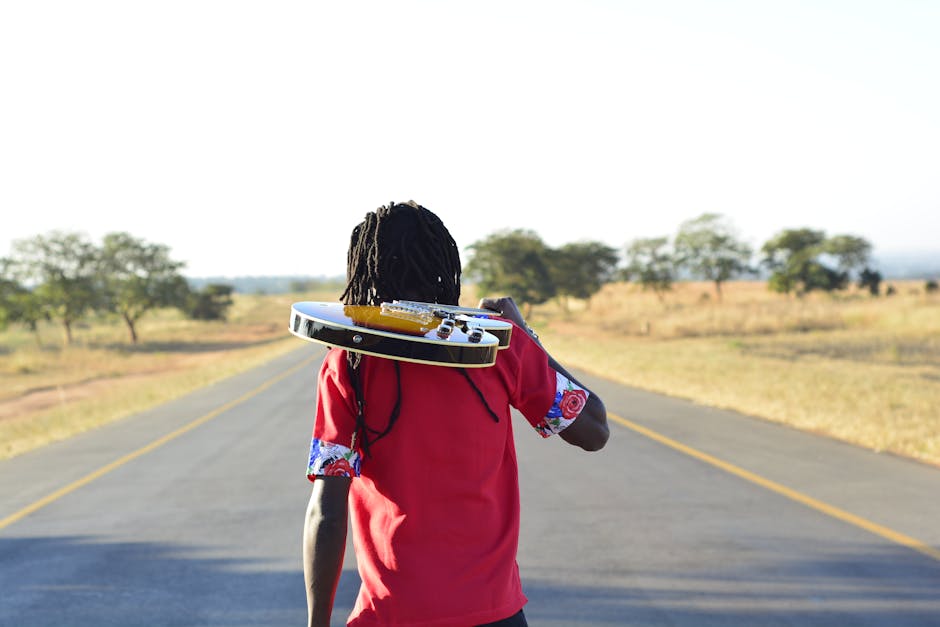 "You might be starving, but you're working toward something greater?"
---
The life of an artist is rough, but if you have something great, you have to keep going strong. But it's tough when there are so many people, especially those in your age range, who are doing much more than you at the moment. Even though that's not saying much, it's still more than what you're doing. But you can't compare what you are doing to what they are doing. Your grind, your climb, your road to success is a lot different than them. And you have to embrace the journey along the way. Yet along that journey, there are some things you need to keep in mind as you are climbing toward your goals as an artist. You should always keep your day job in lieu of your craft, be prepared to sacrifice, learn to listen to those worth listening to, embrace the rough periods, put in the time & ready yourself, and know when you're getting better.
The first bit of advice I have regarding keeping your day job is practical. Don't just up and quite your job because you are pursuing your craft. I myself work two part-time jobs that subsidize my living while I pursue screenwriting/filmmaking. I have worked jobs ranging from retail to administrative, ushering concerts to small theatre roles. You take on every gig you can take in order to make room for you to stay working at your craft. Which also ties into the next bit of advice. You should also be prepared to sacrifice a lot along your journey. You will have to sit by and watch your enjoying their youth and building intimate relationships. Meanwhile, you're building slowly while they live. And to add to it, there is no guarantee you'll succeed. So you just grind away in pain, all the while you neglect aspects of your youth just to push forward in something you love.
And with so much sacrifice that comes with building your dream, you will have the nay-sayers. These are the people who will tell you to give up and quite. They'll tell you to go and find something better else to do rather than build your dream. They will project their fears onto you because they see you doing something that they can't accomplish. So to them you must not know what you're doing. Because why would they be doing what they're doing. In a very passive way they're telling you not only are you no good, but you couldn't possibly be better than them. And on top of the people rooting against you, there are the rough periods that will come along with the climb. These are the times of rough mental and economic obstacles. And what do I really mean by these rough obstacles? Well here is what I mean.
When you're going through all these rough periods in life, it makes you realize certain aspects about yourself. You first realize how easy it truly is to live alone. You are afraid of being alone, but once you realize the people in your corner versus those that aren't, it makes the times when you are doing well worth cutting people off. You also learn that along the way, you can live with a lot less than you thought you could at first. For me, I grew up in a poor household, so I thought the only way for me to be well off was to be very rich. Then I realized the real amount of money I would minimally need to make to live. Then pursuing my dream became much easier to fight for in life. And the reason why I have not lost hope is because I have been able to live off the bare necessities, but I also put the time into my work.
And putting the time in is very important. People talk about their craft, yet they barely work at doing what they say they want to do. You have to put yourself in position to make things happen to you. Put yourself in harms way and see what transpires out of the work. Then when you do get your big break, you have prepared yourself to jump right in. Like the old formula of life, opportunity + preparation = successful outcomes. And all of what I have said prior must be coupled together with an understanding of knowing when you're getting better. Reach out to people and get feedback on your work. And don't just ask friends and family; ask people with no real attachment so you know how people really feel. Family and friends will always cosign, yet the people will be honest. And in the end, put your soul into whatever it is you do. Even with no guarantee of success; know that you can fail and fall flat on your face but you do it anyways.
---
https://faheemjackson.squarespace.com/ (PERSONAL WEBSITE)
https://www.facebook.com/fjacks063 (FAN PAGE)
https://www.amazon.com/s/ref=sr_nr_n_0?fst=as%3Aoff&rh=n%3A283155%2Ck%3Afaheem+jackson&keywords=faheem+jackson&ie=UTF8&qid=1492966094&rnid=2941120011   
@theefaheemjackson Instagram
@2320howe Twitter