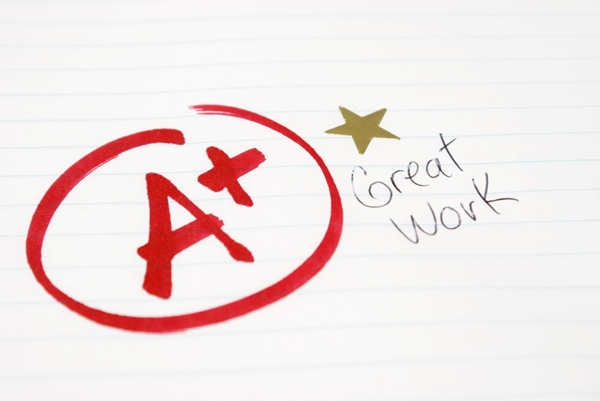 "Is it really a determinant in life?"
---
All my life in school I was taught that if you are not getting the grade in school, you are setting yourself up for failure. How are you not up late night studying for an exam or doing the homework? If you are a "C" student, then you are not going places in life. Now, if you are a straight "A" student then you are in position to make things happen for yourself in life. No one cares about other aspects of school, like your ability to learn subjects that interest you, how long you are willing to toil away at a subject, or even your ability to bounce back from adversity. Because a lot of those "A" students are so used to getting good grades, they have a hard time coming back from anything bad in college or in life. Why else do these good kids fall so hard?
Because when you grow up in school, the teacher will gravitate toward the good student/s. And when that good kid goes to college, the professor has no problem giving you a failing grade. They are not going to care who you were prior to college. And this is the first time in your life you have had a poor grade. So they at times can spiral downward. The kid who didn't get higher grades have had to grind in the face of being told you can't succeed outside the grade. The "C" student might be an "A" student in life, but they are not good in school. I can tell you for sure that school and life is so different. School is this structural environment that makes you study minus the notes. But in life you're allowed to use your notes and all other materials for your personal gain. You have to go get it in life, not brought to you.
Schools like to scare kids into telling them things about the real world that is real, but also somewhat of a distraction. Because when you step into the real world, everything up to that point that is not relevant to work experience means nothing. You have to prove yourself, and if you are not use to proving yourself, then no one cares about anything you have done in this world. That is why grades are important, but like I said before, a little bit of a distraction. Because I was not the best kid in English growing up, yet I self-published two books this year, and working on my second short film script. But, I also taught myself everything about writing on my own. People feel since I didn't learn in an academic environment I can't possibly write. But writing is writing; and to get better you must continue to write well.
In the end, grades are not the end all be all, but schools look at it that way. To me, it is not just a way of ranking people in classrooms, it's about providing exclusivity in the schools. If every kid in the classroom gets an "A" then the teacher gets reprimanded because the course is too easy. If too many fail, then the course is too hard. So we structure schools that so many can't do well, then grade them in life on the basis. Let me tell you, it's not that; you are not going to fail in life because of a grade. Succeeding in life has to do with perseverance, will, determination, consistency, hard work, and persistence.
---
https://www.facebook.com/groups/1777548702458281/
https://www.indiegogo.com/projects/freedomless-speech/x/11885908#/
https://faheemjackson.squarespace.com/ (PERSONAL WEBSITE)
https://www.facebook.com/fjacks063 (FAN PAGE)
https://www.amazon.com/s/ref=sr_nr_n_0?fst=as%3Aoff&rh=n%3A283155%2Ck%3Afaheem+jackson&keywords=faheem+jackson&ie=UTF8&qid=1492966094&rnid=2941120011   
@fjackson12345 Instagram
@2320howe Twitter