TYPE SOCIETY: Technological Advancement Effects on the World
"Is it all good ?"
We are still not even a Type 1 civilization on earth. As long as humans occupied this planet we are nowhere near that type. You may ask yourselves, "What exactly is a type civilization?" Well the type civilizations comes from the Kardashev scale that is used to gauge a civilization's technological advancement due to the energy used for communications. Right now in our civilization, we sit at roughly .78. Now the humans species scientifically has been calculated at around 250,000 years or more. Large amount of time to be in a place and only be .78.
What keeps us from further progressing on to at least one or maybe even a two someday? There are a few reasons as to way starting with capabilities. The capabilities of man is not there yet. But we are moving very fast especially when looking over the past few decades. From the 1960's when man was put on the moon, up until now. Prior to the moon landing, very little has been accomplished on that level. We've had flight, the light bulb, and telephones, but landing on the moon is a tough act to follow. So time continues to tick, as we look for the next technological advancement or expedition. What else stands in the way, well a lot social concerns.
One of the other issues is religious. Fundamental religious beliefs will hinder so much advancement over time. Well why, why is religion a enemy of technology? It's a hindrance because people believe a higher power created everything. And if humans are able to harness the energy on earth to control what the bible says is impossible, then it makes religions seem futile. Of course it would still serves as moral and ethical a template in how to live your life, but it would eliminate any existence of you being created by a divine deity. And since people can't deal with the fact that this is it, and this is all they have to look forward to, they'd reject so much advancement. It's not that technology aims to destroy religion, it's just that society changes and religion remains constant rendering religion irrelevant.
What other social constraint is placed on advancement? Well, that would fall under sociopolitical issues. Depending on what political party is in control in whatever country, there is this push pull tug of war. Let's say in the United States for example. There is a break through technologically, but Democrats and Republicans disagree. Not on it being of use to humanity, but which party will be in control once it's launched. That party could potentially take some sort of responsibility for it coming to market once approval is given.
Another hindrance of moving from type civilization to type civilization would be the access to capital. Well, whose in environments with limited access? That would be third world countries. Meaning economics is another reason why technology lags and progression becomes stagnant. With all that has been said so far, what does a Type 1,2,3,4, and 5 look like. Well we are closer already to the type 1 civilization which is a planetary community. But in addition to this community, it would mean controlling certain aspects of earth: the weather or even natural disasters. What if we reach one, then what would two look like on earth?
A type 2 would mean something on a much higher level. The level of manipulating stars of our planet. Let's say some object was making it's way to earth. In today's society it would mean total extension if big enough. But if we were a type
2, then we could manipulate other planets by placing them in the path, deflecting the object. Or we could use the energy we are able to harness to evaporate the object. Better yet, we would even have the ability to move our planet out of the way of the object. But, if you think that's
impressive, what about type 3.
You mean there's another level, yeah. Type 3 is even more advanced, hard to believe we could ever reach this level. But if by some miracle we do reach this level what can we accomplish? We would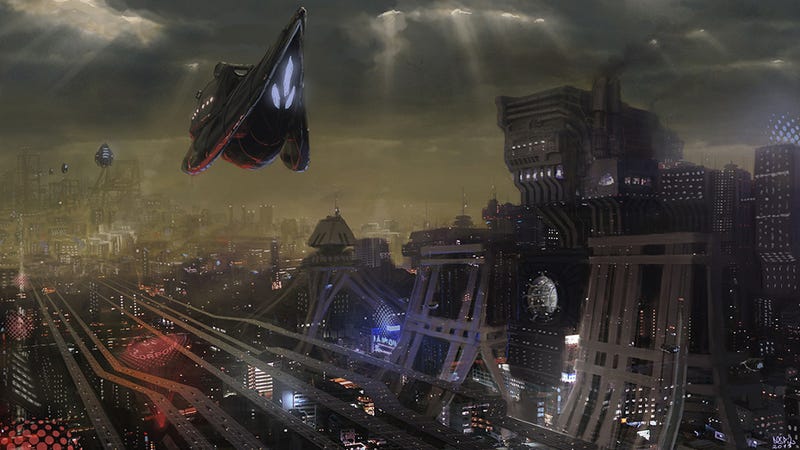 be considered the master race of people. We could also stretch across galaxies meaning moving faster than the speed of light. In addition meaning we could teleport, which is only theoretical in society today.
But then there is another level up. The next level up is the type 4 civilization. Which in my opinion is not going to happen most likly ever. If it took us 250,000 years to get here, you can forget about it.
This is the level at which man could control the energy in our entire universe. Hahahaha! It's laughable because we only harness 20 billionths of the sun's energy, must less the energy of the universe. But guess what, there is still one more level to advancement. And that is the type 5!
Type 5 is the highest level. Type 4 is controlling the energy of the universe. So what can be more impressive than controlling all the energy of the universe as well as moving at the speed of light. This basically means defining all laws of physics. This level
would make us GODS! But some would say, gods can control weather, natural disasters, manipulate objects in space, and control universal energy. No no, we're talking creating a whole new universe, with planets, species, the bang.
But is there any real reason to reach these levels. I mean, people want to inevitably figure out how to exist on this planet. If we could find a way to feed every human on earth, we really don't even need a reason for Type 3 – 5. But as long as there are all these social, political, and religious concerns present, reaching type 1 is still difficult.