"When the machine breaks down, we all break down."
---
The United States of America has always had to deal with an insurmountable level of racial tension. But now more than ever, the tension has risen. You have what is considered the far right, which are members of the Klu Klux Klan as well as The New Black Panther Party. These are groups that have always been around; the Panthers for decades and the Klan for over one hundred years. But with the political landscape in shambles from tension still at a height from this past presidential election of Donald Trump, these far right groups are poking their heads up yet again. But where is all this coming from? Are we starting to digress as a country into old ways?
Let's take a look at some of the groups in America, starting with the KKK. The Klu Klux Klan has been an organization built on White Nationalism for over one hundred years. They preach that America was made for the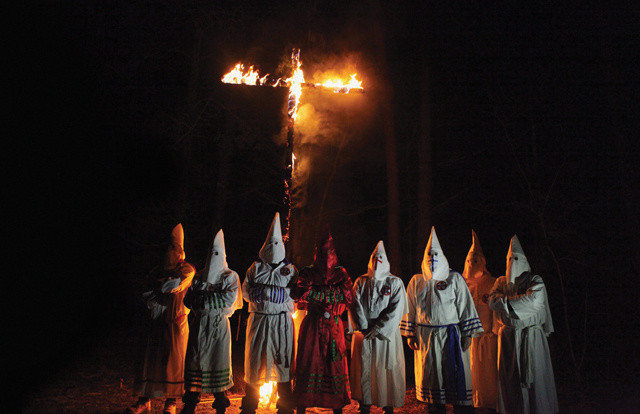 advancement of the White man. Everyone else should repatriate themselves to other regions of the world. Mainly to places where their origins are from: Black People to Africa, East Asians to their respective nations, Latinos/Hispanics to theirs, and Middle Eastern to theirs. They are also an organization built on pushing against what they define as White genocide, such as interracial marriage. An action that they see as a potential threat to their people.
As for the Black Nationalist views, these are people who seek to push the Black agenda. And that Black agenda has meant everything from repatriating to the continent of Africa, to establishing our own economic base outside of White men and women in America. The further views are
held that Black people should not mix the bloodline of those who have oppressed their group, nor should Black people conduct in trade with such a group. The other Nationalist views are that Black people should create our own schools, hospitals, protection for our communities, as well as a push to recreate a culture that has been lost due to historical precedence. And these are the views of the Black Nationalist.
Now my question is, why have these views emerged today in America. Because this conversation has always been an issue. But why so much now? My theory behind the reason why is economics. Anytime Black and White people are in a lesser held position, we tend to look to the other as to why
we struggle. White men and women say I struggle because of welfare, Affirmative Action, and crime effecting their ability to earn. Black people state that we can't earn due to systemic oppression, White privilege, and stolen identification robbing us of self. But what is the real reason?
Well, recently, psychologist and Black Nationalist Umar Johnson and White
Nationalist Richard Spencer have become faces we see in the struggle. Both men have a viewpoint which is similar, yet supports one ethnic group. Now, to understand the racial fight, understand the construct. First off, Black and White are not real ethnic groups. We as Black people had no choice but to
adopt Black because our identity was lost during slavery. And White is just a combination of European groups that came here generations ago. And here lies the interesting part. We are so color constructed in America, we don't realize the old continents and how they fight.
You have European and African groups who dislike each other. And when I
say each other, I don't mean France hating Ghana. I mean the fight between the Serbians and Croatians. The fight between the tribal groups in Africa. So anyone who does not align themselves with the Black/White struggle is seen as a traitor. But really, your skin color construct means nothing, and is oppressive in
itself. But the fight is so long and so deep, the fore fathers of America created a problem that they didn't foresee. They had no clue that it would run so deep. So deep that now, if you are Cuban and accept Cuba and not Black you are met with resistance from the Black community in America. And if you identity as non-White/European, you're met with resistance on the opposite side.
See in the end, the fight racially is simply to designate what is seen as your enemies. If another group would have come in and took over America after slavery, the Black/White fight might have ended then. But the leadership has always been White males. But they don't care about Black or White people, but themselves. Therefore, it becomes more personal than racial. But people need someone to blame. Just as much as Black people need a face, White people need a face. And it's usually as a reaction to our quality of lives. With an increase in both groups of people struggling, will come an increase in racial tension.
---
https://www.facebook.com/groups/1777548702458281/
https://www.indiegogo.com/projects/freedomless-speech/x/11885908#/
https://faheemjackson.squarespace.com/ (PERSONAL WEBSITE)
https://www.facebook.com/fjacks063 (FAN PAGE)
https://www.amazon.com/s/ref=sr_nr_n_0?fst=as%3Aoff&rh=n%3A283155%2Ck%3Afaheem+jackson&keywords=faheem+jackson&ie=UTF8&qid=1492966094&rnid=2941120011   
@fjackson12345 Instagram
@2320howe Twitter