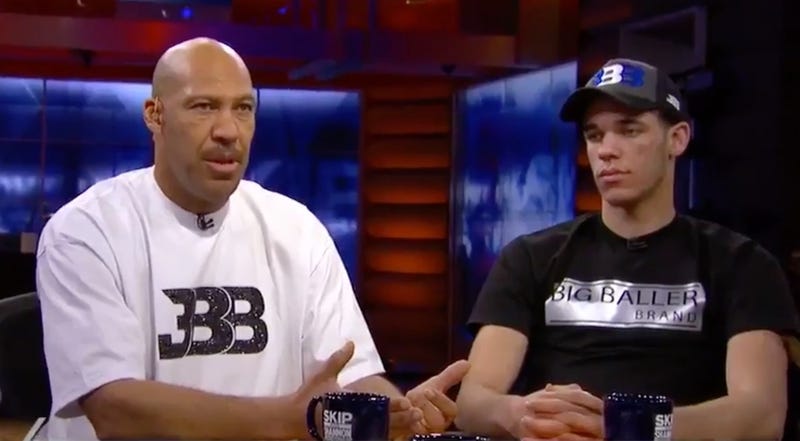 "Success comes from mental strategy, not verbal emotion."
---
Over the recent months there have been a man in the news whose son is a potential NBA draft pick. His name is Lavar Ball, and his UCLA collegiate basketball playing son is Lonzo Ball.  Lavar has been in the news lately surrounding his parenting style with his sons as well as his business dealings in their lives. Now, I have written about Lavar in the past, and I commend him on his parenting. As a matter a fact I think that most boys, especially young Black boys in inner cities across America could use a Lavar as a father. People say that his sons fear him. Good, a respectable fear of their father. A man preparing them for the world.
My issue is not his parenting, I have an issue with the branding of his son. And it's not what you think as it pertains to making his son a brand. It has to do with giving too much of yourself away. You give too much to people who are actually in a position to stifle you, before you can actually attempt. How so you might ask? Well, for starters, Lonzo is not a boxer, Lonzo is not a tennis player, and Lonzo is not a golfer. He will be on a team and not a singular athlete. He need to come into the environment, scope out the landscape and then make decisions for business. If anything Lavar should try to encourage his son to hold off on endorsements. And they should be strategist behind closed doors.
Another reason Lavar might want to fall back a little. It has to do with the idea that just because we draft him, don't mean we have to play him. Your son will be made an example of, which could effect the Big Baller Brand. You as his father want him to play, you lie in the cut and observe the landscape. Then mentor him on what you're seeing and what moves to make off the court. Lavar is making himself and his intentions way too obvious. You're giving people who may not want to see you succeed, too many of your golden nuggets. Now, he may not see it as that, but there are ways to keep you from becoming the star on the court. Because if he kills in basketball, then the shoes will sell. But if he is not allowed to play, then he can't kill, and ultimately the shoes don't sell and bye bye to Big Baller Brand.
Now you must have a little more strategy. Some People might take that as me bowing down to the system. But it's not about bowing down, it's about like I said before; not making yourself obvious. Because if you are telling people your platform before you get the platform, they will systematically stop you from having the platform. So what do you have to do? You have to come in, look around, peep out how things move. See the people who are the movers and shakers. Then manipulate it to work for you and your son. Then you hit with the Big Baller Brand. There are steps to take to be the great thing you aspire to become. But understand, that in order for you to rise, you have to take shares from someone or another entity. So, be ready for the backlash.
In the end, you have to not make yourself or your intentions appear obvious. Lie in the cut, then hit them with the Big Baller Brand. People will feel you not only deserve it, but are willing to patronize. It's unfair, but America and the world at large is about perception. Perception in business can typically be greater than reality. So play into the perception, with the real intentions. Meaning, Lavar should say, "My son and I have come to a mutual agreement that he won't be pursuing an endorsement at this moment." "We're going to let him come in, feel the game, and go from there." "We are open to partnerships/joint ventures, but first I want to see how he performs at the next level." All the while, you're building the Big Baller Brand from ground level. This way when he hit, you hit on the business side; thus also setting your next two sons who are currently in high school up for greatness via their brother's platform.
---
https://www.facebook.com/groups/1777548702458281/
https://faheemjackson.squarespace.com/
https://www.amazon.com/s/ref=sr_nr_n_0?fst=as%3Aoff&rh=n%3A283155%2Ck%3Afaheem+jackson&keywords=faheem+jackson&ie=UTF8&qid=1492966094&rnid=2941120011 
@fjackson12345 Instagram
@2320howe Twitter